When I sit down with a potential new client to discuss JFP Digital Services, there's usually at least one common thread that comes up pretty quickly in the conversation—almost nobody gets their e-mail newsletter out on a regular basis.
Many, many businesses, organizations and non-profits have an e-mail database of people who they've collected as customers, supporters, donors or people who have expressed a desire to connect via social media, on the web or even in person.
But I'd say 90 percent of the people I talk to—while they might focuses resources on social media update and marketing, content for their website and sending out press releases—miss a golden opportunity with their newsletters.
Here are some key reasons why I counsel businesses and non-profits to prioritize e-mail.
1.) Email has high ROI.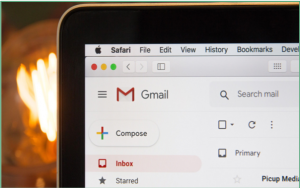 I'll get pushback from clients sometimes when they tell me that their e-mail newsletter only has a 10-20 percent open rate, or they don't see many clicks or traffic that result from it. While those things can be improved with better design, content, targeted messages and even segmenting the e-mail list, the truth is that any results from e-mail are cheap and beneficial.
The latest numbers I've seen from Facebook suggest that you get a 2-3 percent organic reach from most of the posts on a business or organization's page.
Mark Zuckerberg has said a few times now that the priority on Facebook is surfacing personal information and encouraging discussions among people; that means a back seat for branded content. (Oh, and they can charge you to boost branded content, so their incentive is not to show it for free.)
Alternatively, anything you send in email that gets a response has a very low marginal cost. It takes some time to put together the e-mail and to gather more e-mail addresses—true. You might even spend money to get those leads. But once you've got them, marketing to them again doesn't cost much of anything.
So sending something to your list that generates $85 in sales or $200 in donations—that's actually a win, when you consider that the cost of sending each e-mail is probably close to free.
2.) You "own" your e-mail audience.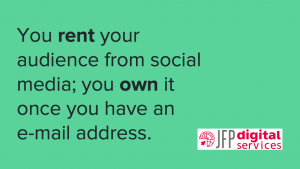 This is really a reason to continue to build your e-mail list, as well as to send regularly scheduled e-mail newsletters to it.
Your content marketing—even your social media marketing—should be designed to "convert" an interested visitor into giving you an e-mail address.
An email is much more valuable than a follower or a friend in social media, because for brands and organizations, that "friend" is part of your rented audience; an e-mail address you receive is something you "own."
How so? Friends, fans and followers in social media are, for the most part, just a class of people to whom you can target an ad or boosted post. This is particularly true on Facebook—on Twitter and Instagram you can reach more of your brand followers organically, especially with interactive content.
But it's worth remembering that Facebook owns Instagram, and the algorithm will probably keep bending toward making organizations pay to reach their followers.
Ultimately, the social media network "owns" your audience, and—just like magazine subscribers or loyal radio listeners—you're free to "rent" that audience from the media company by buying advertising.
Once a follower is on your e-mail list, you don't have to pay again to reach them. That's why getting them on that list should be a key part of your strategy.
3.) Email subject lines get seen.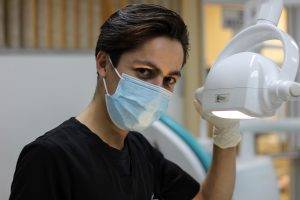 If you're making it to people's inboxes (even in the Promotions section of Gmail, although that's less than ideal) then they're seeing your subject lines.
And in my experience it's true that just seeing a subject line can spur action from people, even if they don't open this e-mail.
FROM: Dr. Smith, DDS
SUBJECT: Are Your Teeth as White As You'd Like Them to Be?
This is particularly true when it comes to service providers (seeing an e-mail from your stylist or dentist can remind you to make an appointment) or from brands or non-profit organizations, where seeing the e-mail can prompt people to jump onto the web to send in a donation.
The more actionable the subject line is, the more effective it might be in getting your recipient to take a desired action—even if they don't open the e-mail and read the body of its contents.
4.) Sending a regular newsletter reminds people you're still here.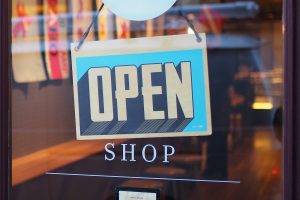 For your blog, social media accounts and your e-mail newsletter, I recommend choosing the Minimum Viable Update Schedule (MVUS—Ok I made that up) that you can successfully get done, and then sticking to it.
Publishing regularly is incredibly important for any newspaper or magazine—and, these days, the internet makes hitting your deadlines really important for businesses and non-profits as well.
Choose the frequency goal that you can hit. If you can only do your e-mail newsletter once a quarter or twice a year—set a date, and stick to it. If you want to go monthly, that's great. Put the deadline in your project management system and don't miss it.
Tip: An email newsletter's content can be pretty simple—a note from you, a recent blog entry or Facebook post, and then links to other items you're reading, podcasts you're listening to or videos you're watching on Youtube. Just being of value to your customer base can be very helpful—and it shows you're active on a regular basis.
(Send me an e-mail if you'd like to see some sample newsletters I've helped client send out.)
5. Setting a newsletter deadline can help you get your other content created.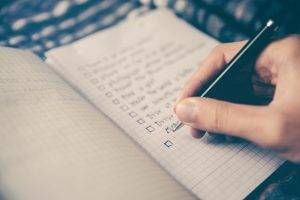 With a number of my clients, the monthly newsletter is the heart-and-soul of the content calendar.
To get the newsletter out on time, we need to get X number of blog entries, Y number of social media posts and Z number of event listings created and posted.
If you have your newsletter format set and you choose the second Wednesday of each month to send it out, then you can work backward from that date to make sure you've got enough content to make the newsletter everything you want it to be.
And leading up to that newsletter's publication date, you can set deadlines to complete and publish the content that you'll ultimately be promoting through the newsletter.
Starting Planning that Newsletter!
For non-profit organizations, thought-leader professionals and most service providers, healthcare folks and anyone who wants an efficient way to reach loyal (and potential) customers or constituents, e-mail is hard to beat.
Just decide what targets you're going to be able to hit, set a deadline for when the newsletter needs to go out—and start working that plan.
Todd Stauffer is the publisher of the Jackson Free Press and the content director of JFP Digital Services. If you'd like to discuss your organization's content marketing strategy, get in touch with Todd.